Our experience since 2001, CMMI-DEV Level 3 processes, and ISO 9001:2015 disciplines are applied across all of our business lines to assure our customers of outstanding support for their missions and operations.
By applying industry proven methodologies, leveraging the innovative spirit of our teams, and ensuring compliance with law, regulations, and guidance we create and sustain cybersecure, agile, successful mission systems.
BUSINESS LINES
One of Diligent's strengths in the market place is our use of proven industry management practices and our record of providing reliable, technically astute and conscientious experts who are able to establish and sustain superior customer satisfaction. Diligent has formed four business lines to best leverage our customer-driven solutions: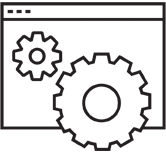 Customer Focused, Employee Driven
Diligent's demonstration of customer focus and drive to produce results is evident in these accomplishments:
Developed initial ERP implementation for unifying logistics program under an Agile Pathfinder program
Facilitated customer migration of major ERP implementation from Waterfall to SAFe® Agile enterprise development
Modernized legacy COBOL/C/Oracle application to Java in 11 months with zero defects
Accelerated RMF/NIST cybersecurity documentation and ATO submission via our Cyber Acceleration Toolkit (CAT)
Replaced development support of proprietary health application from the tool owner and accelerated development enhancements
Migrated a multi-node Application to the DISA cloud
Engineered the migration path for legacy DHA system to cyber supportable cloud
Developed an Enterprise approach to Primavera
Enhanced user interface with touch screen technology
PROFESSIONAL SERVICES
Our professional services provide managed IT services and support in a flexible and scale-able way to meet our client's needs.
CYBERSECURITY & INTELLIGENCE SOLUTIONS
Cybersecurity is a core capability of Diligent. Learn the areas in which we have a long history of providing cybersecurity support to our customers.
SOFTWARE DEVELOPMENT & APPLICATION MODERNIZATION
We are consistently scanning the landscape to analyze and use new technologies, frameworks and methods to stay fresh and to be able to create the best possible products.